Get MP3 File from Youtube Videos
Like what I have said on my previous post, I spent almost most of my time now in front of my PC listening to Marie Digby and Boyceavenue videos in Youtube. And Oh boy! I really like their renditions of Apologize and Umbrella.
Of course, my fascination didn't stop there. The enthusiasm from those videos led me in digging a way to convert or extract the audio from those MTV clips to MP3. And this is the answer to my prayer…
AoA Audio Extractor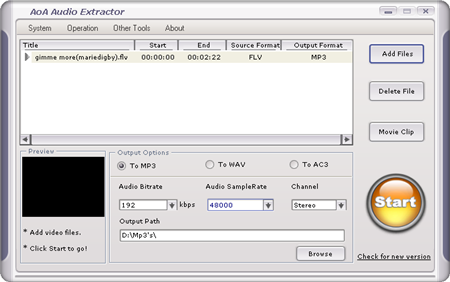 AoA Audio Extractor provides you a handy tool to extract audio/sound or background music from video files.

With AoA Audio Extractor, you can easily extract audio tracks from AVI, MPEG, MPG, FLV (Flash Video), DAT, WMV, MOV, MP4, 3GP video files and save them as MP3, WAV and AC3 formats.

It can also be used to save any portion of the audio of a video file.

AoA Audio Extractor is FREE software. You don't need to pay for AoA Audio Extractor.

Specifications:

Latest Version – 1.1.8
Designed for Windows 98/2000/NT/2003/XP/Vista
License – Freeware
You can also specify your desired audio bitrate from 32 kbps to 320 kbps. I downloaded one of Marie Digby's video and the resulting MP3 track was great. You'll definitely love it if you're into watching MTV's and wanting to have a copy of the song.
Also, there is one site that can extract audio from FLV files on the fly. The website is Vixy.net. Vixy also lets you covert any FLV file to AVI/MOV/MP4/MP3 format online. But one thing I don't like with vixy is the audio quality. The user doesn't have a control on what will be the resulting bit rate. But all in all, it is good enough for an online application.
If you want to download AoA Audio Extractor, get it HERE.
No comments yet.
No trackbacks yet.